We talk a lot about Data and Analytics, and how OmniBI can help take the complexity and make it simple. But, some businesses struggle to understand the need to be data-driven, even misunderstanding what marketing analytics fundamentally is. In this article, we'll lift the lid on this topic.
We wrote before about the importance of understanding your digital data, especially in terms of marketing performance, and referenced the need to understand your marketing data as a fundamental pillar of this. However, whilst everyone talks a good game, about how marketing data is key to their business and about being 'data-driven', there's clearly a cavernous education gulf in explaining exactly how businesses can get started with the marketing analytics practices which might actually help marketers identify what is working and what isn't. More importantly, how data analytics can lead to actionable insights and impactful decision making. 
This lack of understanding would go a long way to explaining why the CMO Survey from 2019 reported that only 36% of marketers have quantitative tools for demonstrating the impact of marketing spend on company performance. So, almost two thirds of marketers are essentially flying blind, iterating through ill-educated trial and error methods, or going solely on 'gut instinct' and perceived precedent. If this resonates with you as a business leader or marketer, it's important to understand what marketing analytics is before committing to a methodology and tool set to deliver it within your organisation. Let's dive in.
What is Marketing Analytics?
In a previous article on data-driven decision making, we explained just how much data was potentially at our fingertips, but actually using that data is where marketing analytics comes in.
In essence, "marketing analytics" or "marketing data analytics" is the process by which analysts look to identify meaningful trends and patterns in data to inform marketing decisions. Put more simply, marketing analytics is the path to making data-informed decisions, using them to optimise a business' marketing spend on activities which actually deliver the highest impact (and, ultimately, ROI).
Marketing analytics is often seen as a sub-section or contributor to business analytics, the process of identifying meaningful patterns in data to inform larger scale business decisions. Many departments employ business analytics, and in today's digital age, with exabytes of data at our disposal, the case for Marketing leading the charge on this is pretty robust. This is why it should certainly be utilised as a discipline alongside sales analytics, financial analytics, product or service analytics, and customer (CRM) analytics, helping give context to (and drawing context from) these partner disciplines.
The differentiator between just having oodles of "data" and "marketing analytics" is the ability to use the numbers: it's a vital decision-making tool for answering strategic marketing questions, including:
Audience & Segmentation Targeting: Who are we going to target with our marketing activity?
Channel Targeting: Which marketing channels should we use to reach these audiences?
Messaging: What messaging (copy), and creatives (imagery, video…) should we focus on to 'sell' to these segments?
Budget: How much should we spend on awareness? How much should a lead cost? What's our cost of acquisition through each of these channels? How can we spend less to generate more revenue?
ROI: What's our return on investment in each channel? Which activities are driving the best ROI?
If you don't know the answers to these questions, or can't find them quickly & easily (and it's actually a time & resource-sapping cost to the business to do this), then there is a missing piece of your business' puzzle (one of the many reasons that OmniBI exists!).
"Put bluntly, if you're not analysing your marketing data (or can't even find it), you aren't in a position to say you have a marketing 'strategy' at all."  

James Gray, Head of Digital, Wonderful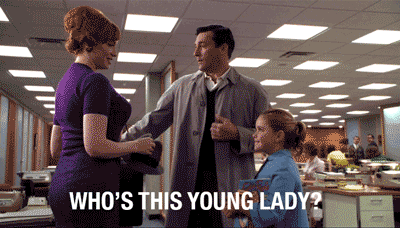 Why should you care? The business case for marketing analytics:
Hopefully by now we've established that marketing analytics is a no brainer – it should be an integral part of your brand's marketing and operational efforts. But the business case for this can be challenging for marketers to put forward, especially in organisations where the benefits are more obvious at the 'sharp end' of marketing operations. That is to say that it's easier to see how marketing execs benefit from analysing the performance of their individual digital campaigns, but its not so obvious why this is useful to the CEO…
At a very basic level, analytics helps marketers make better decisions, which consequently helps drive more revenue; and if coupled with efficiency and cost savings, can impact ROI and the bottom line for the business.
At a top level this sounds great, in principle. But we'd not be great data analysts if we didn't back this statement up with some numbers and metrics, would we? A recent study by McKinsey and another by Invesp found that analytics and data-driven businesses are:
23x more likely to succeed in customer acquisition
6x as likely to retain their existing customers
19x as likely to be profitable
likely to generate 5-8 times more ROI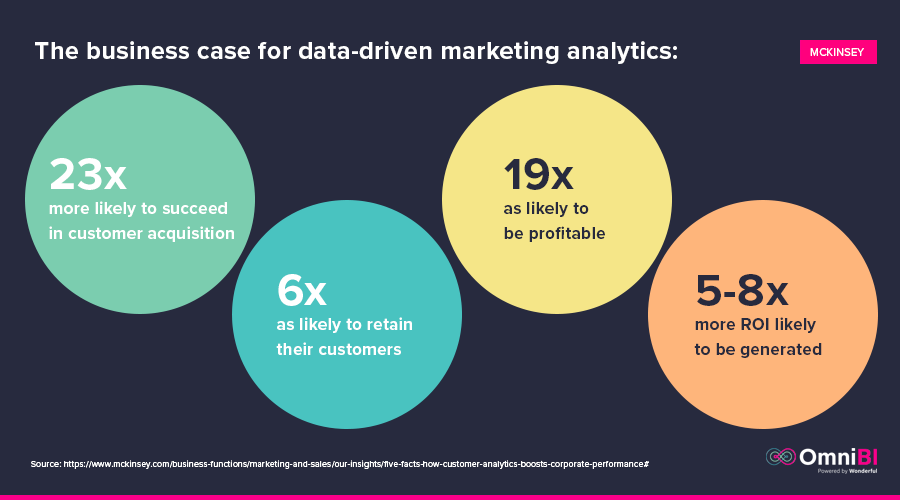 I want to become more data-driven – Show me how.
So, you've decided you're ready to hop aboard the data-driven train to marketing success? Well, you're not alone, according to Forbes only 13% of marketers state that they are confidently making the most of the marketing data available to them, and around 40% are looking to increase their data-driven marketing budgets – the next step is choosing how you implement this. Being data-driven doesn't need to be complex. In fact, the beauty of this is that it can (and should) be made as simple as possible to execute, alleviating concerns over resource & time-sapping costs to the business. There's no point in replacing poor strategy & poor marketing spend efficiencies with poor operational ones, leading to no positive impact on the bottom line.
Bringing all of your multi-source digital data into one place will save you time and effort in becoming analytically driven, which is where OmniBI comes in.
Let OmniBI form the basis of your data-driven marketing.  
Don't just take our word for it, existing customers rave about how OmniBI is empowering them to become more analytical and data-driven in their marketing. If you'd like to find out how to achieve this, and to explore the impact this could have on you and your business, do not hesitate to get in touch.
Why not book a demo today.
Share article