OmniBI renders beautifully on any device. We know that you'll want to check performance on-the-go, so here's how.
In this post, James Gray, Head of Digital at Wonderful explains just how easy it is to use OmniBI on mobile devices:
OmniBI enables you to check your performance on the move.
Your dashboards look great on desktop devices, but they look just as beautiful when you're away from the office, which is particularly useful during these times of remote working.
Have you tried logging in to Google Analytics, Google Ads, the insights tab of your Social channels, and your CRM on-the-go? It's time consuming, clunky and a terrible user experience. Here's where OmniBI gives you yet another wonderfully simple (and enjoyable) experience, with a simple login interface, and full screen charts for clarity.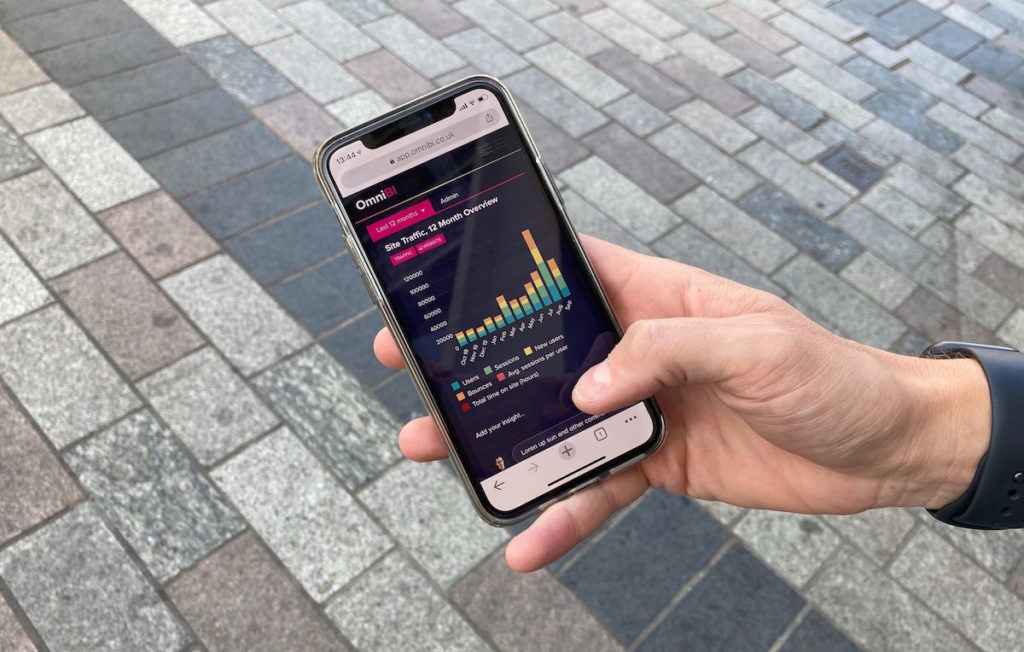 Form & Function:
Unlike many mobile experiences, there's no loss of functionality. Tap on charts to see the numbers behind the visualisations and tap on the key/legend to turn on/off metrics within charts to focus down, as you would on the desktop version. Those all important filters and channel tags are all easily accessible within one tidy navigation (top) allowing you to focus on the charts you want to see. Plus, the data-range filter at the top of each chart works seamlessly too.
Favourites and Insight functionality also live in the mobile environment, meaning you can start dialogue about your charts, ask questions and get insight and recommendations from our expert team wherever you want, whenever you want.
Experience it for yourself:
If you've already got OmniBI access in the office, you've got access in your pocket too. On mobile, tablet, in fact anywhere with internet access, the tool is ready for you. The team behind OmniBI would love to show you a demonstration of the tool, so please book a demo today.
Share article